4416 reviews
UK Sales 01737 783 101
sales@sitebox.ltd.uk
We offer FREE UK Mainland delivery for orders over £50 (ex VAT exclusions apply)
Numatic WV 470 Wet & Dry Vacuum 110/240v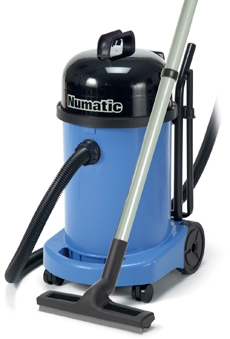 Product ID: num_wv470
Please use this reference number at any time when dealing with us so that we can identify the product you are looking at as quickly as possible.
(Please note this reference number will not be of any use to any other party except us.)
Barcode: 05028965246559
Related Products: See all related products
Manufacturer: Numatic
Warranty: Click here for info
Price: £169.99 (£203.99 inc VAT)
168 people have bought this item!
Error! Sorry there has been a problem adding your items to the cart.
Numatic WV 470 Wet & Dry Vacuum 110/240v
Overview:
The WV-470 provides a larger alternative to the 370-380 series, with twice the capacity but to the same high performance standard be it wet or dry.
What is very important is for professional use we do not mix both the functions of wet and dry operation otherwise the result can be a container full of almost MUD which becomes difficult to empty and will be detrimental to performance. All machines are wet or dry and the change from one to the other is designed to be simplicity itself exchanging a dry filter for wet safety float valve and a change of floor nozzle, or vice versa.
Although twice the capacity we have added a folding handle design allowing easy movement when in use whilst also allowing compact storage.
The accessory kit provides tools for both wet and dry operation with stainless steel tube sets as standard.
Specifications:
Motor

Twinflo
Power

110V/

230V AV 50/60Hz
Motor Power

1200 W
Airflow

40 L/sec
Suction

2500 mm
Capacity Dry

27 L
Capacity Wet

20 L
Cleaning Range

26.8 m
Weight

9.6 kg
Size

358x450x710mm
Brand: Numatic
Identifier: WV 470
---
"Numatic WV 470 Wet & Dry Vacuum 110/240v" By I Phillips on Thu 17th January 2019

5/5
Excellent service and very good price. Full marks.
---
"Numatic WV 470 Wet & Dry Vacuum 110/240v" By Trevor S Hunt on Mon 20th July 2015

5/5
Numatic WV 470 Wet & Dry Vacuum 110/240v. I ordered this unit, from Sitebox, after a lot of research on the internet. Every time I tried to track the unit I could not find a day of despatch so stayed in for three days expecting delivery. I did send an email to Sitebox but received no reply. I sent another to which I received a very pleasant email, from Beverley, saying they were not aware the unit had not been despatched and it would not be so until around the 14th July. The option was a full refund or back order. I opted for the back order. However, a few days later there was a knock on the door and there was the vacuum. So, regardless of the slight delay in the order arriving, I will certainly recommend Sitebox and the WV470 to my members of our wood turning club. It is a very good piece of kit. My thanks to Beverley Worsfold (hope it's spelt correctly Beverley) for her help and of course the unexpected prompt delivery after our exchange of emails. Well worth the five start starts I give to Sitebox. In closing, thank you Beverley and I give you personally 10 stars.
---
"Numatic WV 470 Wet & Dry Vacuum 110/240v" By Tim Wood on Tue 16th June 2015

5/5
Great item. Fast delivery. Great price. ATW construction would highly recommend and use again.
---
"Numatic WV 470 Wet & Dry Vacuum 110/240v" By H Oliver on Thu 7th May 2015

5/5
Good suction on the vac, decent bin capacity and works continuously. Great value A+
---
"Numatic WV 470 Wet & Dry Vacuum 110/240v" By Lindsay on Wed 29th April 2015

5/5
Best price we found and was received next day, with thanks Lindsay
---
"Numatic WV 470 Wet & Dry Vacuum 110/240v" By Perott Electrical on Wed 22nd October 2014

5/5
Rung up to check stock on 2 units and they duly arrived next day as promised, thank you. As for the machines, i give 10 out of 10 every time, you wont find cheaper or better 110v vacuums anywhere else.
---
Thank you! Your review has been submitted for approval.
Item Details
Brand new packaged items only.
Comes with a full manufacturer warranty (not including consumable products).
Please make use of any product reviews or youtube clips we have available to learn more about the item.
This item is usually delivered within 7 working day(s).
Website Details
SSL Certified Secure website to ensure secure online ordering.
Please return the item/s if not suitable for a full refund (within 7 working days of receipt).
We guarantee security of all your personal details, we do not pass on any customer information.
Accept all payment methods including all major Credit Cards, Paypal and Amazon Payments.
---
Ordering
Order online now using our Secure SSL Certified Secure website.
Add this product to your basket and come back at any time to complete the order.
Order by phone on 01737783101.
Order with an official purchase order by fax to 01737783102 OR by email to sales@sitebox.ltd.uk. We will check your account status or if you do not hold an account we will credit check your organisation, confirm and process your order. Please note the first order(s) will always need to be paid upfront unless you are a government linked organisation. Goods remain the property of Sitebox Ltd until paid for in full as per our full terms and conditions.
Voltage
| Option | Price Difference | |
| --- | --- | --- |
| 240 Volts | none | |
| 110 Volts | none | |
Reviews

Great service...
paul baxter on 6th Jun 2020

Great service...
Dhc on 6th Jun 2020

great service, fast delivery...
weirdfish20 on 5th Jun 2020