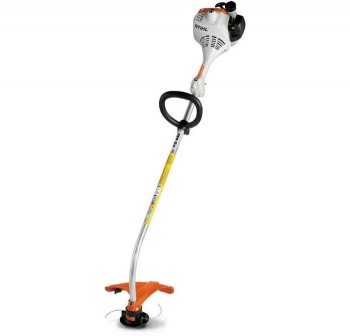 Product ID: sti_fs40
Please use this reference number at any time when dealing with us so that we can identify the product you are looking at as quickly as possible.
(Please note this reference number will not be of any use to any other party except us.)
Related Products: See all related products
Manufacturer: Stihl
Warranty: 2 years
Price: £139.99 (£167.99 inc VAT)
Error! Sorry there has been a problem adding your items to the cart.
STIHL FS40 Grass Trimmer
Stihl offer an impressive range of brushcutters and clearing saws capable of taking care of the smallest of domestic applications to the largest and most arduous of commercial contracts. A combination of ergonomics, innovation and new technology ensure that whichever model you purchase, it is designed to perform at the highest level. The introductory model in the range, the FS 40, is the ideal machine for clearing up around the garden after you have mown the lawn, reaching those corners you cannot access with your lawnmower. This lightweight (4.1kg) bent shaft grass trimmer is supplied with a nylon tap and go automatic feed head with power coming from a 27.2cc 2-stroke petrol engine producing 0.9 hp. Electronic ignition will assist starting and the 0.33 litre fuel tank keeps you running for longer. When the going gets tough this trimmer will also accept a triple blade PolyCut mowing head for thicker growth.
Please note this item is available for collection only from our trade counters. Please call for stock information on the above number.
Sorry! There are currently no reviews for this product.
Thank you! Your review has been submitted for approval.